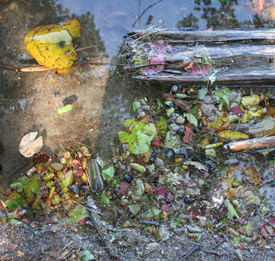 GeoEcology
---
Because my research and teaching interests involve Earth surface processes, there is considerable overlap with ecology, that part of biology dealing with the organization and energy flow of living systems.
Our educational system has programmed us to subdivide Earth into its material spheres: Lithosphere, Atmosphere, Hydrosphere, Biosphere, and World. How easy it is to forget that:  (1) all humanity evolves from biology; (2) all biology derives from from water; (3) all water derives from from the air (vapor); and (4) all that air was steamed out of molten rock.   We also forget that a rock called coal exists because the biosphere extracted carbon from the atmosphere, and then the hydrosphere prevented the residues from being recycled back to the atmopsphere, which allowed them to become lithosphere.  So to what "sphere" does coal belong?
For a sample of my scholarship and teaching on what I loosely call GeoEcology, link to the:
---
Photo: Ultra-clean water and plant detritus in Otter Pond, Standish, Maine created by low nutrient and high oxygen. This results from the fact that the surface-aerated water of Lake Sebago is filtered through a sandy moraine aquifer before emerging into an isolated kettle lake.