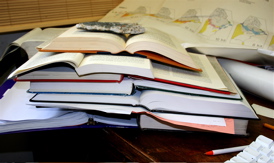 My Writing Life
---
For twenty years I was a typical science professor at public research universities with a grant-funded lab, graduate students, post-docs, scientific meetings, and peer-reviewed journal articles. In this career epoch, my writing audience was an "in-group" cloister of scientists with similar expertise.
Beginning with my 1999-2000 academic-year senior Fulbright in Chile,, the language side of my brain lit up as a consequence of becoming bilingual (albeit with poor grammar and pronunciation) in Castillian Spanish to the point of dreaming that that language. Upon my return to UConn, my research program was soon challenged by the imminent closure of the geology department.
So, I made a career left-turn to newspaper journalism, freelancing in the New York Times, the Boston Globe, the Providence Journal, and others.  Beginning in 2003, I became a regular essayist and weekly opinion columnist for the Hartford Courant, Connecticut's flagship daily, then with a print circulation of nearly 300,000, publishing nearly 500 articles.  I also committed myself to publishing books for general readers and the humanities.  My seven books range in scope from Stone Wall Secrets, a 1998 Smithsonian award-winning illustrated children's book to Walden's Shore, a critically acclaimed 2014 scholarly tome classified by Harvard University Press, as literary criticism, but group-reviewed by Nature.
My most recent book is  The Guide to Walden Pond was published by Houghton Mifflin Harcourt in March 2018 to honor the bicentennial birthday of Henry David Thoreau. It's the first guide to a place visited by over half a million people per year, 160,000 of which are estimated to be internationals. I'm currently working on a third book for Harvard Press.
After fifteen years of steady deadlines, I gave up writing opinions and essays for the Courant. That's when the Wall Street Journal, with a circulation near 4 million, invited me to be a contract book reviewer.
Link to:
---
Photo:  Random stack of books that grew spontaneously during bibliographic editing of  "Beyond Walden: The Hidden History in America's Kettle Lakes and Ponds (Bloomsbury).