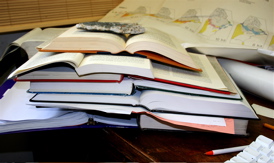 Writing
---
For twenty years I was an typical research-driven science professor running a lab with grants, graduate students, post-docs, attending meetings, and cranking out peer-reviewed journals articles. The focus was on specialized technical expertise.
Then, in 1998, the language side of my brain lit up as the result of becoming fluent in Spanish, albeit with poor grammar.  This, I think, is a case study of neuro-plasticity.  One consequence was becoming a part-time journalist for the Hartford Courant, Connecticut's flagship daily.  Another was a commitment to help bridge the scholarly divide between the humanities and the sciences.  My published books range from a Smithsonian award-winning illustrated children's book  to a well reviewed 421-page book of  literary criticism by Harvard Press (2014).
My most recent book is The Boatman, Henry David Thoreau's River Years.  An upcoming book The Guide to Walden Pond will be published in March 2018.
Link to:
---
Photo:  Random stack of books that grew spontaneously during bibliographic editing of  "Beyond Walden: The Hidden History in America's Kettle Lakes and Ponds."