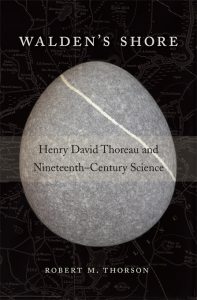 ---
Condensed Vitae
---
For full vitae:   https://robertthorson.clas.uconn.edu/biography/curriculum-vitae/
---
Half-Page Text
Robert M. Thorson is Professor of Geology at the University of Connecticut where he juggles teaching, scholarship, and service within the Center for Integrative Geosciences, the Honors Program, the American Studies Program, the Department of Ecology & Evolutionary Biology, and the Department of Anthropology. Originally an Alaskan field geologist, he gradually metamorphosed into a New England professor, author, speaker,  journalist, and consultant.
For the last fourteen years, he's been a regular opinion columnist for the Hartford Courant, the state's flagship, capitol-city daily, and has coordinated the Stone Wall Initiative, for the Connecticut State Museum of Natural History, an online resource/blog for historic landscape conservation.  Elected as a fellow of the Geological Society of America in 2014, he's also garnered awards for teaching, journalism, and writing.  Visiting scholarly appointments include Harvard University (American Studies), Universidad Tecnica de Santa Maria, Valparaiso, Chile (Civil Engineering), Dartmouth College (Geography) and Yale University (History).
The last three of his seven books involve Thoreau Studies:  The Guide To Walden Pond will be published in March 2018 by Houghton Mifflin Harcourt. The Boatman: Henry David Thoreau's River Years (2017) and Walden's Shore: Henry David Thoreau and Nineteenth Century Science (2014) were published Harvard University Press. Additional Thoreau publications include the invited essays "Physical Science" in Thoreau in Context (Cambridge, 2017), "The Maine Woods Rhomboid" in Rediscovering the Maine Woods (UMass, forthcoming), and articles for the Thoreau Society Bulletin.
One-Page List
Education:  
Ph.D. 1979, Geology, University of Washington, Seattle, WA.  — M.S.  1975, Geology,  University of Alaska Fairbanks, AK.  — B.S.   1973, Earth Science Teaching,  Bemidji State College, Bemidji, MN.
Employment
Academic
Permanent

: Professor, University of Connecticut  (1984-2018). Formerly Associate Professor, University of Alaska  (1980-1984), and Assistant Professor, University of Wisconsin (1979).

Visiting

: Harvard University (American Studies 2013), Universidad Technica Santa Maria (Chile; American Studies, 1998), Dartmouth College (Geography, 1992), Yale University (History, 1991).
Professional
Geologist, full time.  U.S. Geological Survey (Branch of: Earthquake Hazards; Western Environmental; Alaska, 1974-1979)
Author
Seven published non-fiction books (2003-2018), and four scholarly monographs.  The Guide to Walden Pond (Houghton Mifflin Harcourt, 2018), The Boatman (Harvard University Press, 2017), Walden's Shore (Harvard University Press, 2014), Beyond Walden (Bloomsbury/Walker, 2009), Exploring Stone Walls (Walker, 2005), Stone by Stone (Walker, 2003), Stone Wall Secrets (, co-authored, Tilbury House, 1998).
Journalist
~450 essays and opinion columns, mostly for the Hartford Courant (2003-2018).
Blogger and coordinator for the Stone Wall Initiative 
Consultant
Forensic history, museum design, boundary disputes, land use issues, stone walls.
Speaker/Trip Leader
Hundreds of talks, workshops, professional trainings, and field trips, mostly for nonprofit associations and government agencies, usually on environmental history.
Honors & Awards
Solo and shared awards for nonfiction books, journalism, teaching, and scientific research.  Among these, I'm an elected Fellow of the Geological Society of America, and recipient of the Connecticut Book Award for nonfiction.
---
Photo:  Cover of Walden's Shore, my most in-depth scholarly work, 421 pages of material vetted by Harvard University Press and widely reviewed by specialists.