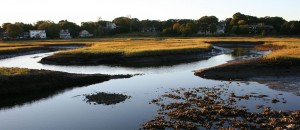 Sense of Place
One decade ago, I published a series of four essays to help Connecticut residents add a sense of deep time to their sense of place.  All were featured in the Hartford Courant's special Sunday commentary section "Place" along with photographs and illustrations.  Taken as a package, they narrate the geological story of Connecticut using the language of local culture. Though I focus on one New England state, the story is basically the same for them all, if only because New England is a coherent region that is smaller than my home state of Minnesota.
The full original texts with illustrations are available through database research tools.
---
Photo:  Sunset view of a salt Marsh in Madison, CT.  During my 2012 sabbatical, I was endlessly re-writing a book in a home office overlooking this marsh. For the first time, I truly understood the tidal cycle.