Since 2001, I've spent more time writing than running a science lab.  Aside from writing books, book reviews, and scholarly articles and book chapters, I've been writing in three different domains.
Hartford Courant, Opinion and Essays: For 15 years, I was regular contributor to The Hartford Courant, the state's flagship and capitol-city daily, the oldest continuously published newspaper in the United States.  For one year I was a regular essayist on a board of contributors, for four years I was a weekly columnist, and for 9 years I wrote bi-weekly.
Other Outlets Generally Opinion and Essays. For other newspapers, these range from invited pieces for the New York Times and unsolicited pieces for New England's mainstream papers. For other magazines, they range from Natural History to a variety of others.  "The Spirit of Kettle Lakes" is one example.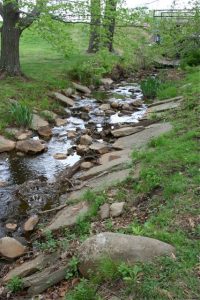 ---
Photos: Thick, paint-like coating of duckweed in a Massachusetts pond caused by excess nutrient.  Roberts Brook, the largest draining the UConn campus in Storrs.