Stone Wall Initiative
---
The Stone Wall Initiative (SWI) was founded in May 2002 to help support the appreciation, preservation and investigation of New England's historic stone walls, and the education about them. In 2003, it linked up with the Neag School of Education at UConn, first through the Carnegie Institution's Teachers for a New Era project, and later for a National Science Foundation curriculum development project. In 2005, the SWI merged into the Connecticut State Museum of Natural History, under the aegis of the College of Liberal Arts and Sciences at UConn. In 2008, and after six years of relentless activities –speeches, field trips, teacher-trainings, conferences, media-interviews, archive activities, and general evangelizing– the SWI settled down into its new phase as an informational internet site. This was upgraded in Spring 2014 to include a blog.
Link here to the Stone Wall Initiative.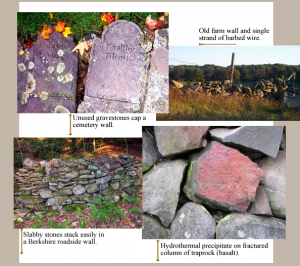 ---
Photo: Top photo is the roadside face of an archetype historic stone wall in Guilford, CT. Bottom is a collage of my photographs designed by a graduate student in education to anchor the homepage of the SWI. Clockwise from upper left: weathered gravestones in Bolton, CT; an old stone fence from Voluntown, CT; a glaze of hydrothermally precipitated "jasper" from a traprock stone at the Hill-Stead Museum in Farmington, CT, and a typical roadside wall in the Berkshires of Massachusetts.