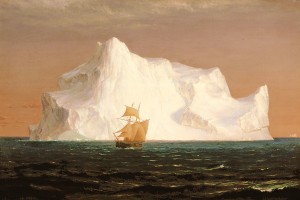 Chapter Images and Summaries
The Iceberg by Frederic E. Church (1891). During Thoreau's era, this was the preferred explanation for the materials  and landforms of his Concord landscape.   Thoreau thought this was balderdash, concluding that his landscape had been buried by an ice sheet, though not catastrophically. (Image courtesy of Carnegie Museum of Art, Pittsburg). 
Chapter Summaries & Illustrations
---
Do you want to get a feel for the whole book before obtaining it?  If so, just click your way through these chapter summaries to view color images of the printed illustrations and to read pithy summaries of what each is about.
Prologue  Contains the story of this book, with acknowledgments
Introduction  Introducing "my Thoreau," the descendentalist who called himself Walden's "stony shore."
PART I – THE PLACE OF THE BOOK
1 – Rock Reality  The tectonic origin of Concord rock and Thoreau's rock and mineral collecting.
2 – Landscape of Loss The landscape is created from that rock, featuring the Walden paleo-valley.
3 – Thoreau's Arctic Vision  Thoreau comes to grips with the glacial theory and explains his landscape.
4 – After the Deluge  Following Charles Darwin, Thoreau reconstructs his postglacial water-world.
5 – Meltdown to Beauty  Creation story for the star-shaped western basin of Walden Pond.
INTERLUDE
6 – The Walden System  Lake Walden as the real "Machine in the Garden," a system in steady state.
PART II – THE BOOK OF THE PLACE
7 – Sensing Walden   Thoreau sojourns with a scientific purpose: to gather information for his poetry.
8 – Writing Walden   His literary techniques: Composite; Black Hole; Threshing Floor; Perceptual Compass.
9 – Interpreting Walden   Exigesis of his bathymetric survey and the Deep Cut. The authors intransitive mind.
10 – Mythology  He writes an alternative Natural Theology and  substitutes religious myth for the cold hard facts.
11 – Simplicity  Thoreau's downward path to a philosophy of life.
Epilogue   On the similarities between Thoreau's grave site in Sleepy Hollow and his house site at Walden.
---
Engraving:  "Walden Pond," illustration for F.B. Sanborn's essay, "The Homes and Haunts of Emerson," Scribner's Monthly 17, Feb 1879, p. 504.