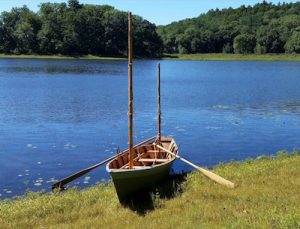 Blurbs
"The Boatman presents a whole new Thoreau—the river rat. This is not just groundbreaking, but fun. Thorson pursues not footsteps of the solitary woodsman but the wake left by Thoreau's skiff. As always with Thoreau, one of the deepest pleasures comes from the idea that we can rediscover and resettle our home places, and what better and more exciting way to do this than on the water? If Thorson had just done this, the book would have been valuable enough, but his story of Thoreau's self-education in hydrology, of his turning himself into a scientific expert on the local rivers and in rivers in general, and of his involvement in a class-action suit to tear down the Billerica dam, make this an important book."
David Gessner
"The Boatman offers the first sustained account of what Henry Thoreau was doing on the local rivers before and after he sojourned at Walden Pond. Thoreau's water world engaged his mind and eye, involved him in a major political dispute, and led him to far-reaching scientific insights. Paddling and sailing on the nearby waterways, Thoreau discerned a natural world transformed by human action, to the loss of the communities of all the living creatures who depended on it for survival. Explicating these insights into the ecology of rivers and into the power of 'the wild,' Robert Thorson reminds us why Thoreau is so essential to our environmentally imperiled times."
Robert Gross
Selected Reviews
"Thorson argues convincingly—sometimes beautifully—that Thoreau's thinking and writing were integrally connected to paddling and sailing… This is where Mr. Thorson is at his most incisive. With the meticulous care of a modern geologist, he excavates Thoreau's journals, notebooks and correspondence, concentrating on the last years of the naturalist's life and exposing the way he became what today we would call a fluvial geomorphologist, an environmental scientist devoted to understanding the form and function of rivers. "Since the dawn of antiquity," Mr. Thorson writes, "rivers, even more so than coasts, have been the primary battlefields in [humans'] war against nature."… Mr. Thorson's attention to detail in describing Thoreau's findings is deeply admirable, if at points a bit too painstaking. But, in his defense, truly understanding something as complex as human ecology requires close attention to detail."
John Kaag
"The Boatman is an impressive feat of empirical research, and Thorson's conclusions are an important contribution to the scholarship on Thoreau as a natural scientist. Had he stopped there, it would be one of those books frequently and admiringly cited by a small circle of academic specialists.  The Boatman, however, has grander ambitions: Thorson hopes that his Thoreau can lead us, slide rule in hand, through the hot times of the Anthropocene."
Daegan Miller
Yet in The Boatman, Robert M. Thorson reminds us that in the last decade of his life Thoreau devoted a great deal more attention to rivers [than to Walden Woods], especially the three main rivers around Concord (the Sudbury, Assabet, and Concord, known to the seventeenth-century Puritans who settled the valley as the South, North, and Great Rivers). Thorson's book offers the reader an in-depth account of Thoreau's lifelong love of boats, his skill as a navigator, his intimate knowledge of the waterways around Concord, and his extensive survey of the Concord River.  "Henry's unheralded river book is his journal," write's Thorson… Both Thorson and [Laura Dassow] Walls make a point of stressing that Thoreau was fully cognizant of what today we call the "Anthropocene."
Robert Pouge Harrison
The Boatman," about Thoreau's relationship to the Concord River and alterations made to it during his lifetime, promises what the publisher, Harvard University, calls, "the most complete account to date of this 'flowage controversy.' "
John Williams
TLS – Times Literary Supplement (London Times)
Thorson's The Boatman can be read profitably beside Walls's biography as a detailed (even excessively detailed) extension of his interest in river geology.
Jay Parini
British Association for American Studies
One of The Boatman's most important achievements is in highlighting the limits of current scholarship on Thoreau…..Unlike other scholars, Thorson, characterizes Thoreau as ' more of a man of the river than of the interior woods, meaning more of a boatman than a woodsman.' His analysis of Thoreau's journal entries justifies this assessment. …Thorson ultimately transmits this wonder and appreciation of nature and wildness to the reader, taking the founding father of modern environmentalism and sustainable living and giving a new interpretation of the environment that inspired him
Anna Kirsch
"Years of meticulous research by geologist Thorson went into the making of this penetrating, revelatory book that delves into Thoreau's pioneering work in river science."
Diane Timblin
There are even points in The Boatman where both Thorson and Thoreau come remarkably close to imbuing nature with something close to sanctity. As Thoreau reflects in his journal, which Thorson regularly cites, "I shall never find in the wilds of Labrador any greater wildness than in some recess in Concord . . . A little more manhood or virtue will make the surface of the globe anywhere thrillingly novel and wild."…The Boatman uncovers a Thoreau who has willingly submitted to mankind's inextricable relationship with nature and found peace within an Anthropocene epoch.
Josh Novalis
Choice Reviews (American Library Association)
Highly recommended. All readers. …An easy read backed by notes and references, this book will find an audience among those interested in rivers and/or Thoreau.
Larry Thomas Spencer
[Thoreau] was, in life, a more complicated figure than the popular imagination makes him out to be. Robert M. Thorson brings some of this complexity to light in his new book, The Boatman: Henry David Thoreau's River Years, by paying attention to parts of Thoreau's biography that have been overshadowed by the success of Walden and "Civil Disobedience"…. Thorson is a geologist, and his interpretation of Thoreau conjures a fellow scientist: full of wonder about the natural world, but ultimately sober, careful, and realistic. Obviously, this picture conflicts with the stereotype of Thoreau as a visionary or prophet, or the mouthpiece of a "national conscience". Thorson's book does an excellent job showing us that there was more to Thoreau than this.
V. Joshua Adams
Thorson's presentation of Thoreau as a data-driven environmental scientist also gives us a Thoreau for the Anthropocene, an outdoorsman deeply attuned to the ways in which mankind was reshaping the natural world. Perhaps surprisingly, from today's vantage, Thoreau regarded that reshaping not as pure debasement, but as the unavoidable entwining of human actions with natural processes, a snarl that heightened conditions for his beloved boating, among many other effects.
Blog Posting
Bestseller – Environmental Sciences #11, October 2017.
Anonymous
Two separate articles cover The Boatman. 
Laurie Hertzel
---
Photo:  Replica of Henry's best-described boat, Musketaquid, on Fairhaven Bay, taken by Juliet Barrett.