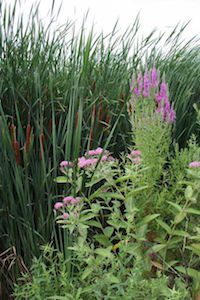 Near-Present and Future
October 28, 2017 – Concord Museum and the Morgan Library and Museum (New York Public Library), joint program.  Talk on Thoreau and his journal during a symposium titled This Ever New Self: Thoreau and His Journal.  All day symposium open to the public at the Fenn School, Monument Square, Concord. Details to follow.
Events Already Past
October 5, 2017 – Library Journal lists  The Boatman as a bestseller for the category Environmental Science.
June 28, 2017 – American Scientist publishes a feature of four interviews about Thoreau's science.  Examples from The Boatman in Thoreau As Naturalist.
July 18 and 25, 2017 – Concord Museum and National Endowment for the Humanities, Concord MA.  Field trips and lectures for national teacher's workshops titled Living and Writing Deliberately: The Concord Landscapes and Legacy of Henry Thoreau.  Registration required through Concord Museum.
July 15, 2017 –Thoreau Society Annual Gathering, Concord, MA.  Book signing for Thorson's Thoreau diptych: [ (Walden's Shore) + (The Boatman)]
July 13, 2017 – Thoreau Society Annual Gathering, Concord, MA.  Presentation of The Boatman.  Session III. Masonic Hall Lower Level.  1-2 PM.
July 13, 2017 – Thoreau Society Annual Gathering, Concord, MA.    Field Trip at Walden Pond. 6:45-8:15 AM. Meet at the Visitors Center.
July 11, 2017 –  Porter Square Books, Cambridge, MA.  Boston-area book launch for The Boatman. Open to the public.
July 6, 2017 – Mere Orthodoxy, an interesting review by Josh Novalis.
June 30 – Boatman makes summer reading list for The American Scientist
June 18 – Riverfest Celebration by a variety of organizations, notably OARS, to whom the book is dedicated.  Afternoon presentation at the Old Manse, details to be confirmed. Link here for Full Program.
June 1, 2017 – OARS Annual Meeting.  Thoreau's River Years. Talk at Concord-Carlisle High School Auditorium. .
May 16, 2017 – National Public Radio, Here and Now.  Radio magazine feature  (9:31) by Alex Ashlock  titled Known for Walden Pond, Scholar says Henry David Thoreau was a 'Man of the River.'
April 29, 2017 – Wall Street Journal, Featured Book Review
April 24 – Official Publication Date.  Review by the Los Angeles Times Review of Books,
April 22, 2017 – Joshua's Trust, Mansfield, CT.  Guided walk to explore Tift Pond and ideas related to the book. 1:30-3:30 PM.
April 18, 2017  – UConn Bookstore, Storrs, CT.  Local Book Launch and Signing – 1  Royce Circle, Storrs Center, Wednesday 5:30-6:30
April 8. 2017  – American Association of Geographers.  Field Trip.  Thoreau's Geo-Concord: Walden Pond, Sleepy Hollow, and  Concord River.  Boston Annual Meeting.  Organized by Sarah Luria.  Registration required through the conference.
March 24, 2017 – Release Date for The Boatman.  Books available for sale in stores and online.
March 14, 2017 – UConn Today. Media coverage.  Out of the Woods and Onto the River, by Ken Best.
January 15, 2017 –  New York Times Books.  Article Celebrating Two Centuries of Thoreau is the first media mention of The Boatman.
September 23, 2017 – Concord Free Public Library, Concord, MA.  Thoreau Bicentennial Lecture Series. 5-7 PM, Library Rotunda (See also lectures by Laura Dassow Walls on July 14; Elizabeth Hall Witherell on Sep 16; Robert A. Gross on Oct 7; and Robert N. Hudspeth, Oct 14; and ongoing exhibit titled "Concord, which is my Rome.")
September 12, 2016 – Concord Journal. Article titled  Author Tests out Replica of Thoreau's Boat. The press accompanied our launch of the boat to obtain a frontispiece for The Boatman.
---
Photo: Invasive loosestrife and reeds in Concord's Great Meadow, a not-so-wild wetland.